The Sudanese media is currently facing significant challenges due to the clashes that erupted on the 15th of April 2023 between the Sudanese Army and the Rapid Support Forces. Indeed, journalists in Sudan face growing threats in light of the raging conflict, as well as additional obstacles preventing them from accessing information. The absence of any digital and physical protection mechanisms further hinder their ability to pursue their work.
The media landscape in Sudan amid the conflict
The media scene in Sudan is facing additional challenges posed by the armed conflict, which are exacerbated by restrictive laws, the absence of democracy, and the state's control over most media outlets. Political polarization constitutes one of those major challenges as media institutions must choose between maintaining balance and adhering to professional standards or aligning themselves with a particular camp.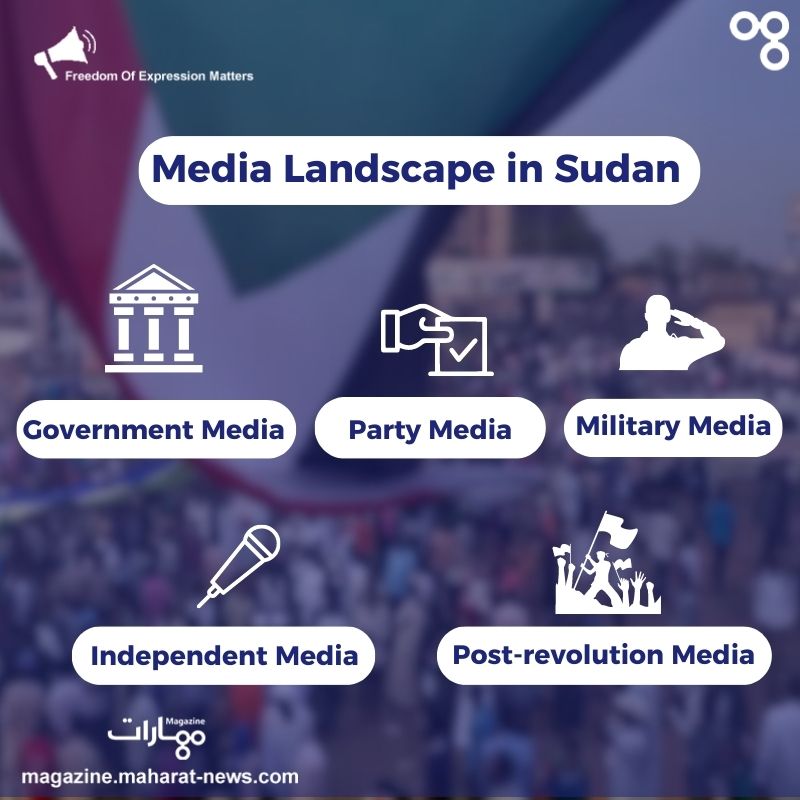 This has led to the emergence of an ambiguous media landscape where journalists find themselves caught in a battle revolving around power rather than democracy, influenced by several factors such as media ownership and affiliations, as well as restrictive laws that limit their freedom.
Amid this challenging context, the Sudanese media has been subject to a restrictive system of media laws, which are mostly outdated. Although the outbreak of the Sudanese revolution against the rule of al-Bashir in 2019 increased press freedom, the Sudanese media has faced several waves of repression with differing levels of intensity over the past thirty years. Notably, in 2015, two newspaper editors, Osman Mirghani of Al-Tayar newspaper and Ahmed Yousef Al-Tay of Al-Sayha newspaper, were arrested for publishing false information and undermining the constitutional system.
Following the 2019 revolution, the media landscape in Sudan was divided into various ownerships, political orientations, and partisan affiliations. Actually,  media in Sudan can be categorized as on one hand, media affiliated to state actors, including government media, media affiliated to parties in power and military media and on the other hand, community-based and independent media outlets that have emerged following the opening of the political and media scene after the 2019 revolution.
It is also worth mentioning that the licensing of Sudanese media outlets is subject to the Press and Publications Law issued in 2009. However, there is no specific law devoted to the granting of licenses to websites and online newspapers. Consequently, many of these media platforms have obtained licenses by circumventing the laws and registering as "Media Services" companies. In numerous cases, many of these unlicensed platforms refrain from mentioning the names of their founders and journalists in order to protect them from potential prosecutions.
During the ongoing conflict in Sudan, some international media development organizations attempted to adapt their programs to the current situation to help journalists overcome the challenges imposed by the conflicts. According to journalist Haider Abdul Karim, "Internews" is one of those prominent media development organizations which provided financial support to journalists through an emergency fund and helped evacuate journalists from dangerous areas.
He also affirmed to "Maharat Magazine" that although some media development organizations provided financial support to journalists, the main obstacle lies in transferring these funds to Sudan due to the suspension of all financial services such as money transfer companies and banks. Abdul Karim also highlighted the need to train journalists working in Sudan on physical and digital protection protocols, as well as how to deal with armed conflicts and physical searches, especially in light of the growing threats facing many journalists. Indeed, some of them were threatened with death by conflict parties when photos and videos documenting violations against civilians were discovered on their phones.
The Access to information Act in Sudan: A Law Designed to Serve the Regime
The Access to Information Act was passed in Sudan in 2015. The law is considered one of Sudan's obligations under Article 19 of the International Covenant on Civil and Political Rights and plays an important role in enhancing transparency and fighting corruption. However, it is evident that Sudanese journalists face significant challenges that prevent them from accessing information.
In this context, Sudanese journalist Wafaq Tajani said in an interview with "Maharat Magazine" that the system enacted the Access to Information Act in 2015 in a way that safeguards the interests of the authorities and imposes several conditions for accessing information.
Tariq Osman, the Legal Aid Secretary of the Sudanese Journalists Union, pointed out in an interview with "Maharat Magazine" that the Access to Information Act in Sudan is nothing more than a form of "ornament". Despite clear constitutional provisions, successive governments have remained non-transparent and worked to conceal information from the media and the public.
Sudanese journalist Isa Dafallah, in an interview with "Maharat Magazine," described the law as defective in both form and content, as it restricts journalists and prevents them from accessing information that is broadly classified under national security and other vague criteria. Indeed, the law includes 12 types of information that citizens are prohibited from accessing, pertaining to national security and foreign policy. Dafallah considers that these laws were deliberately made ambiguous to enable the authorities to pursue journalists under the pretext of national security, violation of national sovereignty, espionage, and others.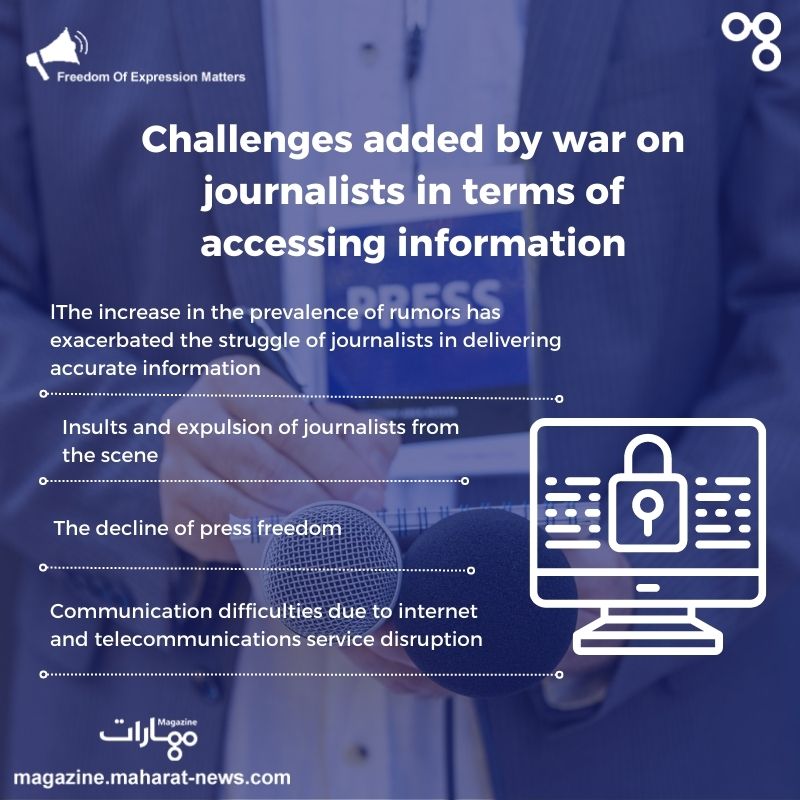 On the other hand, the Access to Information Act includes in its seventh chapter mentions the financial resources of the Information Access Commission, which include "the funds obtained as a result of the services it provides." This constitutes a barrier for journalists that prevents them from  accessing information, as confirmed by Sudanese journalist Wafaq Al-Tajani who pointed out that it is common knowledge that journalists live in poor financial conditions and frequently receive minimum wages. All of this contributes to the repression against journalists and prevents them from seeking out information, especially regarding corruption charges involving the state and public officials. 
The situation has worsened with the outbreak of the conflict in Sudan, which has negatively affected the work of journalists globally and particularly access to information, due to increased repression, insults, and threats from conflicting parties, as well as the spread of misleading information and rumors. 
Indeed, Al-Tajani affirmed that active platforms operating during the war disseminate misinformation and rumors, exacerbating the struggles of journalists in disseminating accurate information.
In this context, Tariq Osman, the Legal Aid Secretary at the Sudanese Journalists Union, points out that the lack of accurate information amid the conflict has created a fertile environment for the spread of false information, particularly with the emergence of social media as a determining factor in shaping public opinion. Furthermore, the process of accessing information has been limited to information obtained through the journalist's relationship with various conflict parties due to the prevailing chaos and the imposition of military restrictions in controlled areas. Consequently, conflicting parties only disseminate information that serves their purpose, according to Dafallah. 
It is also worth noting that frequent internet disruptions constitute an additional hurdle for journalists . Tariq Osman, the Legal Aid Secretary at the Sudanese Journalists Union, mentioned that internet disruptions have been a tactic consistently employed by Sudanese authorities since 2019, and it continues to be frequently used, particularly during protests. Consequently, media channels now rely on citizen journalists. 
In addition to the obstacles aforementioned, Sudanese journalists face other challenges, including physical assault, arrests, and legal persecution, according to Al-Tajani's statements.
The Total Absence of Journalists' Protection in Sudan: Violations at all Levels
"Despite presenting my valid press credentials, they halted the filming and asked me to follow them. They insulted me and threatened to kill me if I returned to my work." With these words, Sudanese journalist Issa Dafallah recounts what happened to him when he was detained by members of the Rapid Support Forces while preparing a journalistic report on the damage caused by looting and robbery in the Malaja Market in Nyala City.
Issa's experience illustrates the suffering of Sudanese journalists who face serious violations while performing their work in the complete absence of any physical and digital protection mechanisms. 
These violations have escalated since April 15, 2023, when an armed conflict erupted between the Sudanese army and the Rapid Support Forces, leading to a paralysis of the country and its institutions, including media institutions. The daily data published on the Sudanese Journalists Union's Facebook page indicates a daily and sustained increase in targeted attacks against journalists.
Journalist Amira Saleh confirms to "Maharat Magazine" that Sudanese journalists have been subjected to attacks since before the war, emphasizing that, "in addition to the torture that journalists may face if arrested, female journalists are also subjected to harassment. I was one of those who were arrested during the protests following the October 25 coup, and I faced harassment, death threats, and insults. They even called me Shereen Abu Akleh."
The current inability of journalists to carry out their work constitutes one of the most serious violations. According to a report by the Sudanese Journalists Union on "the spread of violations against journalists during the first month of the war," 28 journalists, both male and female, from various media outlets were evacuated by the Red Cross after being trapped for nine days and nights in their offices in Khartoum, in a dangerous area witnessing intense battles without sufficient food resources.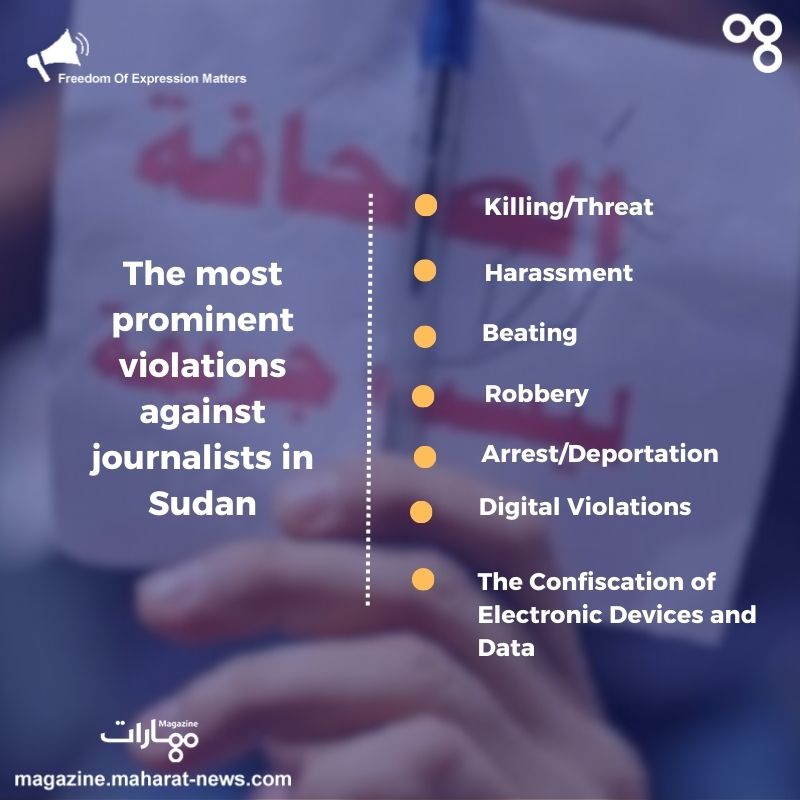 Furthermore, as mentioned above, Sudan experienced frequent disruptions of internet and communications networks in the early days of the conflict, which constitutes a violation of journalists' right to circulate information and verify its credibility. 
In addition to direct violations, journalists have suffered digital violations related to social media and smart devices. According to the latest report of  the Observatory of the Sudanese Journalists' Union, a hate speech campaign was instigated by Facebook accounts targeting journalists and media outlets, calling on citizens and authorities to expel journalists and local channels from conflict sites.
In this context, Sudanese journalist Haider Abdel Karim revealed the following experience to "Maharat Magazine": "Personally, I have been subjected to an attempt of arrest by the Rapid Support Forces. They asked me at a checkpoint to unlock my mobile phone, and they found pictures of citizens who died on the first day of the battles, and because of that, I was threatened with a weapon, and a rifle was pointed at my head. Therefore, when journalists have images of current events on their phone, they may be subjected to assault."
Amid the threats faced by journalists during the ongoing war, questions arise about the protection mechanisms that the Sudanese Journalists' Union should implement, Mohamed Abdul Aziz, the Secretary-General of the Sudanese Journalists' Union, explained to Maharat Magazine that the union, as an independent and democratic organization, works to protect journalists and enable them to practice their profession in all circumstances. However, since the outbreak of the conflict, the union, journalists, and the profession have faced extremely complex conditions. On the other hand, journalist Haider Abdel Karim believes that the role of the union in terms of protection has been limited to providing some informational guidelines to train journalists on how to behave in conflict areas. 
Journalists anywhere in the world have the right to carry out their work freely and safely. International humanitarian law stipulates that civilian journalists performing their duties in armed conflicts must be respected and protected from any deliberate attacks. In Sudan, there are specific laws concerning press freedom and freedom of expression, such as the Press and Publications Act of 2009. However, the problem lies in the fact that journalists are being tried under multiple laws, including under criminal law.
Furthermore, the Cybercrime Law of 2007, which was amended in 2020 does not only prosecute journalists but also encompasses the entire digital space and anything published online.